Waterford Electric Co. Ltd.
We have electrifying news to share with you!
Anders Electric and Waterford Electric Co. Ltd., like-sized businesses, completed a year-long merger. We will be operating under the Anders Electric name. Our base of operations is in Oakland (Brant County), which is just a 10-minute drive from Waterford.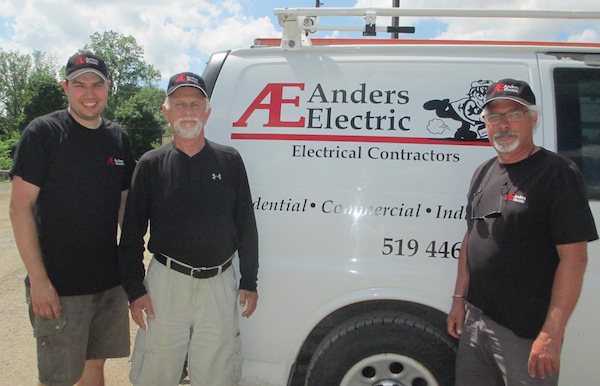 From left, Adam Walker, Paul Hrvoyevich, and Doug Walker. Photographer Carol Goff.
Today's team is looking forward to serving you with the same efficient service. The teams had complementary strengths and together are more capable. The extensive list of residential, commercial, agricultural and industrial services, now also includes home theatre installations.

Please join us in congratulating Mr. Paul Hrvoyevich, founder of Waterford Electric Co. Ltd., on a long successful career. On April 30, 2018, he retired; his legacy of quality and dependability will continue. Paraphrasing Paul "I am confident that clients and employees will be well taken care of."

We will honour any warranty that you had with Waterford Electric. Please update your contact list and accounting program.

Welcome aboard! We look forward to serving your needs and getting better acquainted.
Learn about our combined services, click here.